Since the Oscars are approaching quickly (tomorrow actually), I thought I would post my top movies. These are not my picks for who will win Best Picture—I called the winner last year and I am going out on a high note.
These top 10 lists—one for this year and one for all-time—are in no way authoritative. I am not an actor, I am not a critic, and I have never lived in Los Angeles. But I love movies (who doesn't? It's like all the other forms of art and entertainment combined, and it only takes two hours to ingest), and I think I have reasonably good taste. While I try to be objective, weighing the merit and skill involved in each film, I think the "My" in the title of this post betrays just how subjective it all really is. Hopefully, though, you will be able to garner some movie suggestions and have a starting point for developing your own list. Without any further ado, my top 10:
Top 10 Movies for the Oscars
10. Noah – Since it took an obviously ludicrous approach to its depiction of Scripture, this biblical epic has received a lot of flack. But the movie is undoubtedly entertaining and boasts the intimacy and psychological-depth that Aronofsky is known for.
9. Captain America: Winter Soldier – As with most Marvel films, this one was solid—nothing flashy, just good solid movie making. Its only extraordinary quality is the humility and piety of its hero.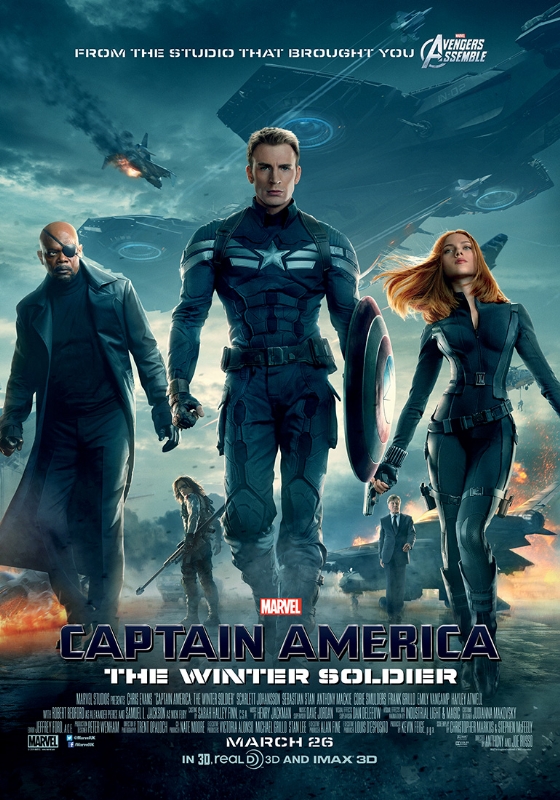 8. Selma – Though it can never live up to listening to a real speech by the Doctor, it was a well-crafted and emotional flick.
7. Grand Budapest Hotel – I am notoriously cynical when it comes to Wes Anderson, but I found this installment to be particularly poignant and entertaining. To be honest, though, just seeing Mr. Murray on the screen is enough to make me smile.
6. X-Men: Days of Future Past – This movie took everything good from the X-Men franchise and put it in one place. I've come to very much appreciate Michael Fassbender, and the Quicksilver scene was remarkable.
5. Guardians of the Galaxy – This film took the irreverent hilarity of The Avengers and amplified it a hundredfold, maintaining still its action-packed suspense and occasionally moving scenes.
4. Boyhood – This movie reminds me of three others: The Truman Show, Before Sunrise, and Seven Up!—all of which were better than this one. Still, I enjoyed the coming-of-age story, relishing in the frequent scenes that captured mundane life in its grandeur and humor.
3. Gone Girl – Though this chilling, dark comedy has an iffy ending, what it is able to do with my emotions and stress level is absolutely amazing.
2. Birdman – My favorite part of this movie was the never-ending shot—it was one virtue among many, but it brought everything together. The story woven around the ironically familiar superhero actor was touching at times and enthralling all the way through.
1. Interstellar – Sitting on the edge of my seat, I could not help but wonder how Nolan had stolen all of my childhood dreams. His newest film, Interstellar, has finally brought to the big-screen everything I had hoped for and imagined about space in my younger years—it did this with added creativity and suspense. The movie adds to Nolan's tasteful commentary on ethical systems and gives us McConaughey's best performance to date. With the exception of the last 3 minutes, I admit that I found most of the last third to be a bore and inconsequential to the movie's grandeur. Still, Nolan has done something fantastic here.
There were some other movies that I saw this year that were good, just not good enough to go on the list. There were some others that I didn't see, that I imagine would have made it to the list. And there were also some movies I saw that shouldn't be on any list—and probably should have never been made.
Top 10 Movies Ever
10. On the Waterfront (1954) – No one is cooler or smoother than Marlon Brando's Terry Malloy, but you cannot help but weep for the poor fool. We must watch as Terry and the others on the waterfront march upward and onward, escaping the life of a D&D bum and reminding us of how things still have to change.
9. Beauty and the Beast (1991) – The greatest of all the Disney films, Beauty and the Beast captures all that is enchanting and fairy-tale magic, while still being thrilling and witty.
8. Inherit the Wind (1960) – This courtroom drama depicts the timeless battle of liberal versus conservative—a battle that has found new charge in the Scopes Monkey Trial. The performances, here, are electric and no one comes out a hero.
7. American Beauty (1999) – I greatly appreciate movies that can balance multiple genres at once, like this comedy meets tragic-drama. Its sad commentary on middle class life and complacency is piercing.
6. Decalogue (1989) – Greater than any of its technical achievements is its thematic word. Decalogue reimagines what it means to live out God's revelation to humankind on Sinai, making it frighteningly closer to our hearts.
5. The Searchers (1956) – Westerns have a history of simplification and, for a long time, needed a more thorough tackling of the genre. That is why John Ford's darker undertaking starring the Duke, himself, is both a relief and the greatest revisioning of the heart of Westerns.
4. The Godfather, pt. 1 & 2 (1972, 1974) – All of the artistic elements of filmmaking come together here and make an unmistakable masterpiece. It is an epic centered on a family, and the love and the cruelty therein.
3. Jurassic Park (1993) – Though most of the screen time is filled with cold-blooded dinosaurs, this movie is really a heartwarming tale of old birds. Nonetheless, the action thrills and raptor-suspense is incredibly entertaining.
2. It's a Wonderful Life (1946) – It deserves more credit than being a holiday classic. It is a moving story about a selfless man, drawing up sympathy from the well of my soul.
1. Raging Bull (1980) – Though rough on the edges and far from pleasant, Martin Scorsese's Raging Bull is a beautiful and clear window into the weightiest regions of a man's being. In this drama meets biographical-sports film, we watch on as Giacobbe "Jake" LaMotta takes a beating. With his brother Joey LaMotta at his side, Jake is one of the most talented boxers in his weight class, but it seems every fight begins with his face being punched to a pulp. Ironically, in the home he uses his strength to batter his second wife, Vickie LaMotta, and bully his brother. Jake LaMotta is an unloveable creature—yet we understand him, and some might even sympathize with him. For in Raging Bull, we see that Jake LaMotta is more than an abusive and violent monster—we can see the sexuality, the pain, and the masochism that plague his soul and give this film unparalleled depth.
Some Honorable Mentions include: Who's Afraid of Virginia Woolf, The Avengers, 2001: A Space Odyssey, 12 Angry Men, Ocean's 11, There Will Be Blood, Before Sunset Series, Indiana Jones: Raiders of the Lost Ark, City of God, Fargo, and Lawrence of Arabia. It's so hard to narrow down all the great films out there to just ten, so this is my way of getting around it.
Enjoy the rest of your weekend.